Live and Learn Homestays Ltd is a small English language homestay company based in Birmingham, the "Heart of England", in the UK. The company is owned and managed by Lorna Allen, a local entrepreneur who worked part-time as a homestay tutor and local organiser for a large, international language homestay company for over seven years. Live and Learn Homestays combine high-quality language courses with friendly, welcoming accommodation in the tutor's own home: a unique opportunity that allows students to not only learn English intensively, but also to experience family life right in the centre of Britain. With the option of trips to places of cultural interest, such as Stratford-upon-Avon (the birthplace of William Shakespeare), as well as visits to some of the loveliest countryside in the UK, a Live and Learn homestay is the ideal way to improve your English – and gain a valuable insight into "real life" in Britain.
In this interview with NetworkMilan.com, the online news magazine of the Milan Business English Network, Lorna explains some of the advantages and benefits of a language homestay. She also talks about how her background, how she started Live and Learn Homestays and why individual care and attention is key to the success of her business.
NetworkMilan.com: Lorna, we know you're busy at this time of year with people booking homestays. Thanks for taking the time to talk to us.
Lorna Allen, Director of Live and Learn Homestays Ltd: You're welcome! Yes, this is the run-up (approach) to our busiest period, but I'm happy to spare the time. And thanks for the opportunity to tell you about Live and Learn!
Homestays
NetworkMilan.com: Lorna, let's start with a basic question: what is a homestay – and how is it different from a typical language school course?
Lorna Allen: That's something I get asked all the time! A homestay is a unique opportunity for people to experience the language and culture of their host family in the most authentic way. Your host will welcome you as a guest into their home and share their family life with you, usually for 1 – 4 weeks.
A homestay normally includes full board accommodation in a private bedroom (meals are taken with your host family), local cultural excursions and a chance to participate in frequent activities such as pub lunches, trips to the theatre or cinema, shopping and so on.
As well as enjoying a stay with your host family, you can expect your English speaking and listening skills to improve as our host families will only communicate with you in English!
If you want to make even more progress with your English language skills, we can arrange private English lessons either with your host or a teacher who will visit you, at your convenience, to deliver your lessons.
We can also add a variety of leisure activities to your homestay such as English cookery (yes, really!), golf, horse riding, English crafts and jewellery making, and fishing, etc.
Homestays are suitable for people of all ages and language abilities (except for complete beginners). So far, our youngest homestay guest has been 12 years old and our oldest 75 years old!
I would say that the biggest difference between our homestay English courses and typical English language courses is that, by being placed with a native English-speaking host family in England, learners are isolated from their mother tongue and so make much more rapid progress with their English language skills. There is no alternative, really: you have to speak in English!
All of this is achieved by offering an authentic British context in which to "Live and Learn" English!
If you attend a typical English course at an institution, such as a language school, you will be encouraged to communicate in English during the lesson. But  as soon as the lesson is over learners usually just go back to speaking their mother tongue – especially if you're with other Italian students!
With a homestay, it's completely different: as a learner, you will not only be engaging in conversation with your host/teacher – you will also do things like watch English TV together, listen to the radio in English and talk about the content – so you will constantly be learning and practicing new vocabulary and grammar.
Another benefit of a homestay English course is that you have the opportunity to receive individual attention (reassuring for learners who are afraid of making mistakes with their spoken English in a class). And, of course, you get lots of opportunities to hear the language being spoken by native speakers in both formal situations (especially during lessons) and in relaxed, informal situations, for example, conversations at mealtimes or in the pub.
Courses
NetworkMilan.com: What sort of courses do you offer and how are they organized?
Lorna Allen: OK, so we offer a number of English courses. First of all, there's our general English course. This is aimed at learners of all ages and abilities. It includes lots of speaking practice as well as grammar, vocabulary, writing and comprehension in English.  Then we've got our exam preparation course. This one is aimed at young adults or older learners who want study for an exam and it's taught by our more experienced teachers. This course focuses on practice for exams such as IELTS, TOEFL, and Cambridge CAE. Finally, there's our English for work course, which is aimed at professionals who wish to improve their communication skills for business and work in general. You will learn how to use the phone, write emails, and give great presentations. And you will also learn the art of making small talk (informal conversation) after work, too!
All of our courses include a diagnostic test (to assess your level) and an agreed number of hours of private English tuition per week (10, 15 or 20). You will also receive a certificate of attendance.
All lessons are delivered at the host's home – so you won't need to travel far to the class!
The first day is spent discussing your language requirements and administering the diagnostic test. Our teachers are all qualified (at least to degree level and most with an additional English language teaching qualification, such as the Cambridge CELTA).
You can decide exactly when you want to have your lessons, but we suggest having them on a weekday (Monday to Friday) – and then your weekends are free for sight-seeing, shopping etc.
NOTE: To see a sample timetable of a Live and Learn Homestay, click here.
Hosts / Teachers
NetworkMilan.com: Who are the hosts/teachers?  Can you tell us a little bit about them?
Lorna Allen: Our teachers are all native English-speakers and qualified at least to degree level (laureati). Where learners want more specialised teaching, such as for exam preparation, we use teachers who have additional English language teaching qualifications.
Most of our hosts are also able to teach English, but if the host isn't qualified we will send a teacher to the home to give lessons to the learner at the time they choose.
Our hosts and teachers come from a variety of backgrounds and professions; we have school teachers, lawyers, social workers – quite a diverse range, really.
One thing that they all have in common, however, is their love of people and their desire to learn about different cultures.
When you stay in a homestay, learning really becomes a two-way process. On the one hand, you are learning about British culture – but on the other, your host will be very enthusiastic to hear about the customs and culture in your country.
Our hosts are very special to me and I personally choose each one by visiting them in their homes and assessing their suitability to host guests from abroad.
During these visits, I also speak to other members of the family to see if they are happy with the idea of sharing their family life with a homestay guest.
When I recruit new hosts, I look for a warm welcome;  a clean, comfortable home; qualifications (if the host is teaching); and a valid CRB (Criminal Records Bureau) certificate if they are hosting children.
My team of host families have become my friends. We meet socially and they know I'm only a telephone call away if they need to contact me.
Birmingham and the "Heart of England"
NetworkMilan.com: Can you tell us a little about Birmingham and the surrounding area?
Lorna Allen: Birmingham is a fabulous place to live and work. I was born here and moved to London as a teenager,  but I came back home to Birmingham 17 years ago.
After London, Birmingham is considered by many as England's second city – and it has a rich cultural and industrial heritage. (Birmingham was known as the "workshop of the world" during the 19th century and was the cradle (culla) of the Industrial Revolution.) The city has recently benefited from substantial regeneration and investment and offers a world-class cultural scene as well as superb shopping. (The Bullring shopping centre, home of the ultra-modern Selfridges department store, is a must-see.)
Birmingham is a really convenient location for visitors: it's located in the "Heart of England", and is easy to reach since it's at the centre of England's road and rail network. There are also easy connections with international airports at Birmingham and Coventry.
All our hosts enjoy taking their homestay guests on excursions to places such as the Cotswolds – a beautiful part of the English countryside featuring honey-coloured villages with limestone cottages. You can also visit historic Stratford-upon-Avon, where the greatest poet in the English language, William Shakespeare, was born.
Our younger homestay guests particularly enjoy visiting the most famous chocolate factory in the world after Willy Wonka's own fictional manufacturing works. Cadbury World offers a unique experience that includes 14 zones including the history of the Bournville Cadbury factory, an Aztec Forest zone, the chance to ride through a chocolate wonderland on a Beanmobile – and even to write your name in liquid chocolate with the help of an experienced demonstrator. Young guests / learners will also enjoy Birmingham's state-of-the-art (high tech) Thinktank science museum with over 200 exhibits you can actually touch – as well as a Planetarium and an IMAX cinema.
Older visitors will love Soho House, the elegant 18th century home of industrialist and entrepreneur Matthew Boulton – and the meeting place of some of the greatest minds of the time. And if you're a shopaholic, you'll love Birmingham's world-class Jewellery Quarter, which combines traditional and innovative jewellery designers and shops with a wealth of historic churches, art galleries and museums.
If you want to experience the Great Outdoors and get some fresh air, you can visit the breathtaking (mozzafiato) English landscape of the Malvern Hills – a "mountain range in miniature". And don't forget Birmingham's rich tradition of ancient and modern cathedrals.
I often give homestay guests a tour of Birmingham city centre and they are surprised to hear that Birmingham has more canals than Venice!
Italian guests / learners
NetworkMilan.com: Have there been many Italian students at Live and Learn? What would you say to Italian people considering going to the UK for a homestay?
Lorna Allen: We have had many homestay guests from Italy, most coming from Milan.
We've had children who are now coming for the third consecutive year as well as adults who want to improve their English and experience British culture.
Our Italian guests gain a great deal of benefit from our homestays as they tend to be very interested in learning about the British way of life.
They are also keen to become integrated into their host family's life – and I know that they are particularly curious about English food!
There is a perception that English food is quite bland (scialbo) and, while this can be true in a few instances, many English people have travelled widely and so have been influenced by other cuisines. Britain also benefits from having a wide diversity of ethnic cultures, each of which has enriched British food generally.
Our supermarkets now sell foods such as extra-virgin olive oil, fresh pasta and real coffees which means that you can still eat your favourite foods even if you don't really like English cuisine (although we think we can change your opinion!).
Birmingham is also home to some very fine restaurants and pubs serving fantastic "pub-grub" (pub food) – so there is lots of choice available. I have personally taken some of my Italian homestay guests to Caribbean and Indian restaurants so that they can sample dishes (piatti) that may not be easily available back home.
Young learners
NetworkMilan.com: You said that you organise homestays for young people. What assurances can you give parents that children will be happy and safe?
Lorna Allen: I really enjoy arranging homestays for young people and I'm pleased when they come back for a second and even a third visit!
There is no fixed minimum age limit but I ask that the child or young person is mature enough to enjoy their stay away from home. There is no advantage in a child coming if they are going to be very unhappy and home-sick for the duration of their stay!
I am a mother of two children myself so I know the importance of ensuring that young people enjoy a happy and safe homestay with us.
Parents can be reassured that we will take total care of their children and this care begins with the selection of suitable host families.
When host families express an interest in hosting young people, I ensure that they have a valid CRB (Criminal Records Bureau) certificate. The CRB is a 'police check' (controllo) to ensure that the applicant does not have any record of offences against children.
I take photos of the host, their family and home and send them to the parents so that they can see exactly what the family and home looks like before sending their children.
I should mention that homestay fees for young people include an "extra-care supplement" and this guarantees that the young person is always supervised by the host or an adult member of the host's family.
Once the homestay booking has been confirmed, I then send parents the host's contact details so that they can get in touch (communicate) and get to know each other (become acquainted) before their child's arrival.
When the young person arrives in the UK, either I or the host family will collect them from the airport and, on the return journey, we will stay with them until the airline staff take over responsibility.
I will telephone the young person 2 or 3 days after their arrival to check if they are happy in their homestay. (I ask the host to leave the room so that the young person can speak freely). I also visit all young people during their homestay and report back to their parents.
Lorna's story
NetworkMilan.com: Lorna, tell us a little bit about yourself and why you started Live and Learn?
Lorna Allen: Well, I was born in Birmingham in the UK to Jamaican parents. I have two children, aged 21 and 17 and have enjoyed a long and varied career working to support children and their families.
About ten years ago, I was approached by a hosting company to host and teach foreign learners. I did that for a while and then I became a local organiser for the company.
I continued doing this for over seven years as a way to supplement my earnings from my main job.
It was a Japanese client who suggested that I started my own company as he was very pleased with the way that I had made arrangements for his group of Japanese students.
Hosting learners and, some time later, organising their homestays, gave me the opportunity to meet people from all over the world. I learned about their culture – and it was great for my children too, as they both went on to study languages at high school. I'm sure it was the hosting experience that motivated them to learn other languages!
I also gained a lot of satisfaction from seeing people progress very quickly with their English language skills after their two week homestay in Birmingham.
So, after a great deal of thought and discussion with family and friends, I took the bold step (made the courageous decision) of leaving work. I left in July 2007 and launched 'Live and Learn Homestays Ltd.' in April 2008.
And the rest, as they say, is history!
Business success
NetworkMilan: What do you think makes a successful business? And what are your plans for the future?
Lorna Allen: What makes a successful business? Mm – difficult question. Well, I suppose at the heart of any successful business is a person who is willing and able to take risks; a person who has the ability to communicate his or her passion for the business; a hard worker who leads with integrity; a team player; and a person who knows that, in business, "failure" is just another word for opportunity!
In the near future, I will be updating my website and adding our new leisure and cultural activities such as English cookery, jewellery-making, fascinator workshops (where you can learn how to make a fascinator, as worn by Kate Middleton – or the Duchess of Cambridge as she is now known!). We are also offering sports camps for young people, as well as fishing and canal trips. We will be adding even more activities in the future (so make sure you visit our website to find out what we've got to offer!).
I am also working on plans to develop our services so that we can take small groups of young people. I have been approached by an outdoor education centre and they have the facilities to accommodate small groups and offer an exciting leisure and English language package. So, if any of your readers would like more information for small groups of school-age learners who want to come to the UK in the summer or at Easter, please contact me at Live and Learn Homestays Ltd.
Many people have asked whether I'd consider expanding the business to offer homestays all around the UK. Whilst I'm sure there is plenty of scope (possibility) for expansion, I'd rather keep things local as by offering homestays within the "Heart of England" region, I can keep a close eye on (watch carefully) the quality of the service that we're offering. The sad truth is that there are too many homestay companies out there that take your money and don't care about the experience that you've paid for – and I never want to be like that!
Booking your homestay
NetworkMilan.com: How can people book a Live and Learn homestay – and how much does it cost?
Lorna Allen: People can book their homestay through our website or just email me with your requirements and I will send you a booking form (modulo di prenotazione).
An average stay is two weeks in length and the price depends on the kind of homestay booked (for example, with or without English lessons) the number of hours of English tuition, the age of the homestay guest and leisure activities required, etc.
As a guide, a two week homestay starts from £220 (€250) per week and this includes half board accommodation (bed, breakfast and dinner) during the week and full board (bed, breakfast, lunch and dinner) at the weekend – this option is more suited to people who wish to spend only part of the day with their host family.
This represents excellent value for money especially when compared to a hotel room where accommodation (without meals) will cost from £65 per night – and you don't have the benefit of interacting with a lovely host family!
The Live and Learn difference
NetworkMilan: There are a number of companies and individual tutors now offering homestays. What would you say makes Live and Learn different?
Lorna Allen: OK, firstly, I'm proud to say that we are different!
I know that we are different because many of our homestay guests have experience of booking homestays with other companies and they say we're not like the others!
Also, our host families and teachers work for a number of companies – and they say that we're special too!
I think the most important thing that distinguishes us is that we really care about our learners and homestay guests. We make sure that you have the best experience from the very first moment that you contact us to the time that you step foot on (enter) the plane to go home!
We endeavour to match guests with a host/teacher as quickly as possibly – usually within a few days. It can sometimes take a little longer as we strive (try very hard) to make sure that everyone has the most suitable host/teacher.
As a business owner and manager, it is vitally important to me to gain the feedback of every single homestay guest and so I maintain contact with all guests during their stay. They also have access to 24-hour telephone support in the unlikely event of an emergency.
I visit all of my younger homestay guests to make sure that they are enjoying their stay. I will often visit the adults too and we may go out for a meal in Birmingham or a tour of the city together. It's a fantastic opportunity to find out about their homestay experience and they sometimes give me great ideas for improving the service that we offer!
Our homestay guests tell me that they have never received such a high quality, personal service from the other companies that they have used and this is why they return year after year.
Our hosts/teachers enjoy working with us because they feel get lots of support and are able to contact me at any time to ask for advice.
They also enjoy the fact that guests see their host/teacher profile and photographs before booking and are able to communicate with their guest before they arrive. This helps avoid any problems or confusion and goes a long way (is important) to ensuring that the homestay is both enjoyable and successful.
A number of homestay guests have invited me to stay with them in their own countries. So far I've been too busy, but I may well take them up on (accept) their offers later this year.
It would be great to be a homestay guest in another country and this time it would be my turn to "Live and Learn"!
NetworkMilan.com: Lorna, you've certainly provided us and our readers with a lot of really interesting and useful information about language homestays. Thank you for taking the time to talk to us. We wish you and your tutors all the best – and hope that Live and Learn Homestays Ltd will continue to grow and provide a valuable and truly unique service to all of your guests.
Lorna Allen: You're very welcome – and thanks to you, too, for giving me the opportunity of telling people in your network about Live and Learn . If anyone wants to find out about our homestays, please get in touch with me and I will tell you everything you need to know. See you in Birmingham soon!
Contact Live and Learn
If you would like to know more about Live and Learn Homestays Ltd and how you can both improve your English as well as experience family life with a professional, friendly host /teacher in the UK, please contact Lorna Allen ([email protected]). She will be very happy to give you all the information you need and to organise a homestay that is ideally suited to your needs.
Visit the Live and Learn Homestays website:
http://www.homestay-online.com/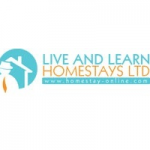 © Robert Dennis, NetworkMilan.com 2011
Share and Enjoy