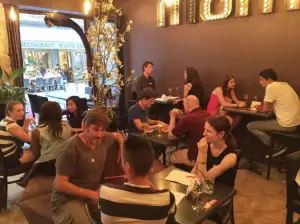 There's an exciting new way to practise your language skills in Milan. It's called FRANGLISH and we spoke to Franglish co-founder Steven Annonziata to find out all about it…

NetworkMilan.com: What is Franglish?

Steven Annonziata: Franglish is a language exchange event (Italian/English exchange in Milan and Rome) taking place every week in some of the best venues across your city. The goal of FRANGLISH is simple: to learn a foreign language in a relaxed atmosphere and to improve your language skills in a great environment where you can start meeting locals and forming friendships! It's more of a social event than a language lesson. Our experience abroad taught us that the best way to learn a language is to talk about things we know and like. With FRANGLISH you can talk about anything and everything without the fear of being judged.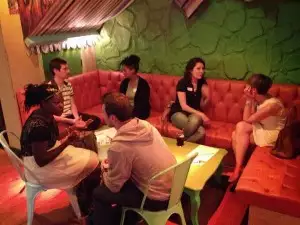 Network Milan: How does Franglish work?

Steven: Firstly, you start by registering through the website http://www.franglish.eu, then the participants meet up in a bar or restaurant with a floor or room dedicated to Franglish, from 7pm to 9pm, for the price of 10 euros including one drink. After the welcome drink, they start their first one-to-one mini-conversation. Each session lasts for 15 minutes; Italians and anglophones alternate half of the time in Italian, half in English with at least 5 different people. After the 15 minutes is over, they switch tables and meet a new partner! Out of inspiration? If needed, a bilingual organiser is there to help people break the ice and guide them via conversation suggestions.

Network Milan: Where do Franglish events take place?

Steven: Franglish events take place in bars and restaurants, usually on Tuesdays or Wednesdays from 7 to 9pm. A room is dedicated to Franglish.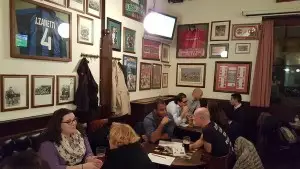 Network Milan: Which cities / countries does Franglish operate in?

Steven: We organise Franglish events in Italy (Milan and Rome), France (Paris, Nice, Lyon, Lille, Montpellier, Bordeaux, Toulouse, Strasbourg and Grenoble), Belgium (Brussels), the UK (London and Cambridge), the USA (Chicago and San Francisco) and Canada (Toronto).

Network Milan: Where did you get the idea for Franglish?

Steven: I founded FRANGLISH with a friend, Nicolas Saurel. We have lived abroad, and back in France we started thinking about how we had only had a few opportunities to practise English with native speakers: it is not that easy to meet and create friendships with anglophones in France. We had tried many options spanning from very formal and quite expensive lessons to big parties where it can be sometimes difficult for attendees to overcome shyness. In essence, we couldn't find a happy medium, so we decided to create it ourselves and came up with FRANGLISH.

Franglish is about making progress while having fun. In the friendly atmosphere of the best venues we offer anglophones and italians the opportunity to discover and share their language and culture while having a drink together. Not hidden behind their computer screens, but in person, in real life.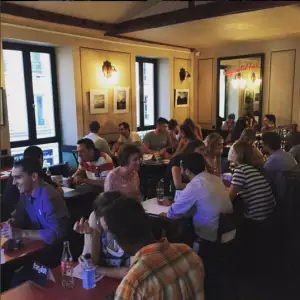 Network Milan: Is Franglish speed dating? If not, what are the differences?

Steven: FRANGLISH is not an 'aperitivo' or a new approach to speed dating: it is a social event that allows you to (re)discover a language and a new culture. Franglish aims to create a link between communities that have a lot to learn from each other. So if your goal is to practise a language while making new friends, Franglish is made for you. If you're looking for the love of your life, then I'm sure there are plenty of events made for you, but not Franglish I'm afraid.

Network Milan: What sort of people is Franglish aimed at?

Steven: Franglish is aimed at people looking to improve their language skills. Practising is the key, and practising with native speakers is even better.

Network Milan: Are there any language levels / minimum language skills required, etc?

Steven: Not really, all levels/ages are welcome at Franglish. Of course, it will be easier if you're able to hold a conversation in the language you're learning, but it's not a necessary requirement of FRANGLISH.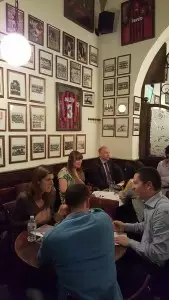 Network Milan: How much do the events cost (typically)?

Steven: The average cost is 10€ and it includes a welcome drink.

Network Milan: Why is Franglish different from / better than straightforward language exchanges / lessons (classes), etc

Steven: Franglish is different from any other language exchange because of its format/organisation. The one-to-one conversations allow people to practise their language skills during the two-hour-long event. You sit with a native speaker in front of you and you have no choice other than talk to them! So even if your language skills are not that great (at least if that's what you think) or if you are a bit shy, it won't be a problem at Franglish.

People come back every week and we get great feedback so we're pretty sure they really like it!

Network Milan: Franglish is already in a lot of places. Do you plan to expand it even further?

Steven: Yes. Within a year we are aiming to launch Franglish in a lot of new places, especially in Europe and the USA.

Network Milan: How can I find out where Franglish events are taking place in my area?

Steven: That's quite easy. Just visit our website www.franglish.eu and select the city where you live. All the information is updated every week. Signup is mandatory on the website so don't forget to do it.

Network Milan: Thanks for taking the time to speak to us!

Steven: Thanks for the interview and I hope to see a lot of expats, students, language enthusiasts and people who just want to practise speaking English or Italian at Franglish soon.


Interview for NetworkMilan by Robert Dennis.

You can discover more Franglish events in Milan on the Club Tutti Expats International of Milano MeetUp group, including dates, locations and photos of recent events.

If you would like to attend a Franglish event, however, it is VERY IMPORTANT that you register with Franglish via their website http://www.franglish.eu.
Share and Enjoy