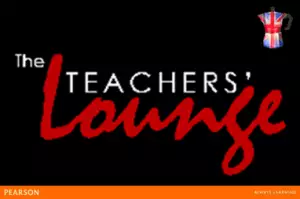 Last Thursday the first-ever Teachers' Lounge event was held at Fiori Oscuri bar in Milan. The event's organisers, Robert Dennis of the Milan Business English Network and Russell Lewis of Pearson, were both surprised and delighted by the positive reaction from guests and feedback on the event, which was attended by over 30 teachers and professionals involved in language training.
The Teachers' Lounge combined the networking and socialising of a typical MBEN event with a unique opportunity to discover more about Pearson's dedicated range of specialist ELT materials, including a wide selection of online resources as well as books covering everything from grammar to exams to English for Special Purposes (ESP).
In a relaxed and stylish setting, the Teachers' Lounge allowed guests to mingle and chat (with free refreshments provided by Pearson) while Russell and his team of experts from the world's largest education company showed off the latest in blended learning solutions, such as MyEnglishLab and the online and offline versions of bestselling courses including Speak Out and Market Leader.
Attendees were also given an interactive card equipped with a NFC chip and a QR code which provides access to special offers from Pearson. These are updated regularly and can be accessed using the Teachers' Lounge card simply by tapping it with an NFC-enabled smartphone or by scanning the QR code.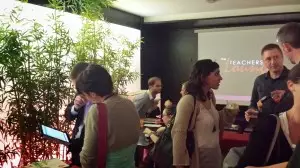 During the evening, Robert introduced Russell, who made a short speech thanking everyone for attending and introducing the NFC/QR card to guests. Both organisers thanked Andrew Shearn of Fiori Oscuri for providing such beautiful accommodation: the stunning lower ground floor lounge, complete with tropical plants, sofas and some lightly-chilled ambient beats.
Following the success of the launch event, another Teachers' Lounge is currently being planned for the autumn. Watch this space for more details or contact Robert Dennis or Russell Lewis to find out how you can register for the event.
Looking forward to seeing everyone again – plus some new faces – at the next Teachers' Lounge!
Contact details:
Robert Dennis, Milan Business English Network
Russell Lewis, Pearson
Share and Enjoy